Fairchild AFB Famcamp is located in Spokane, Washington and is a great stop if you're on your way to or from Glacier National Park or Yellowstone National Park via Interstate 90 from the West Coast.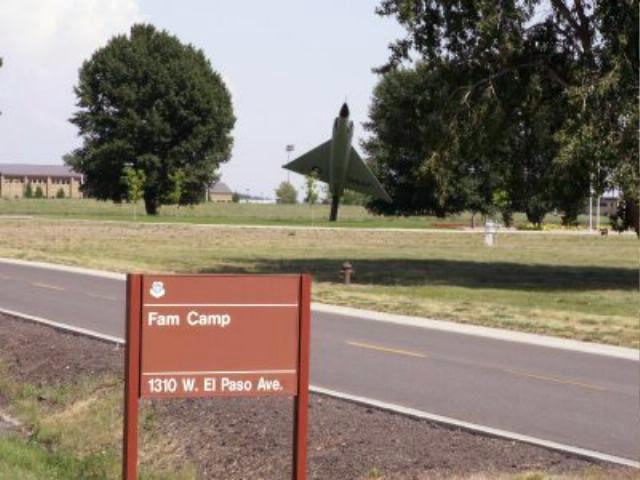 Large RV's must use the commercial "Rambo Gate". Be aware that this gate closes at 1800hrs weekdays. We've been told that your RV "may" be inspected upon entry, but we were able to drive right on. I've updated the directions to the "Rambo Gate" on the website, as there were some small errors. There's no signs on the highway directing you to this commercial gate, so pay attention to the street signs. When leaving the base, you can exit via the main gate. If needed, security will open the barriers for exiting. The FamCamp is located on the other side of the base. Just follow the website directions to get you there. As you enter the famcamp, you'll need to make a SHARP right turn into the FamCamp then stop at the host site for check-in. Be sure to swing out left to make this SHARP turn. The sites on your right are full hook-up pull-through sites with 30/50 amp service. The sites to the left of the bathhouse are full hook-up but 30 amp only.
We spent a few days exploring the base and FamCamp. We originally paid for two nights, but decided to extend another 3 nights. It is a "no-frills" campground, but is great for this purpose. The price is very reasonable and even includes free WiFi. WiFi worked fine for us. The restrooms are old and could be updated with paint and new fixtures, but they were clean. To keep the cost of the RV sites as low as possible, money isn't wasted on trying to landscape and maintain a fancy RV resort. However, the grounds are kept up and mowed on a regular basis. Fairchild AFB is a large base and has all the facilities you would expect. There's a large Commissary and Exchange, gym and swimming pool, library, gas station (no diesel), hospital, and much more. We were there over a weekend, so there wasn't any jet noise, but jet fighters are not the main mission here. The hosts were fantastic - very friendly and knowledgeable. Outdoor Recreation has the largest selection of rentals that I've seen. A large variety of boats, trailers, and equipment is available for rent. You only need to watch a safety movie to be allowed to rent the boats. There were plenty of trips and activities planned. With a bit of planning, this location would make for a wonderful family vacation. When in the area, we would 100% stay here again.
| | | |
| --- | --- | --- |
| | | |
The camp is open April 1st through October 31st. IN 2019, the fees are $20 per day. They no longer have a weekly or monthly rate. Reservations are not accepted. The camp host will register you and give you directions to Outdoor Recreation to pay. The exchange and commissary are co-located with ample RV parking and are located at GPS 47.63830 N, -117.65338 W.