This site is unofficial and operated by a private citizen, proudly retired from the U.S. Air Force. It is NOT endorsed or sponsored by the Department of Defense, any branch of the military services, or any government agency.
Welcome! This free website is supported by sales of the U.S. Military Campgrounds Directory software, by visiting our sponsors, and by donations. Your support insures the continued operation and improvement of this website and the Directory software. Creating a free user account will provide access to all features of the website.
There are 253 listings and 6409 reviews.
We have 454 guests and 1 member online
U.S. Military Campgrounds and RV Parks
| | | | |
| --- | --- | --- | --- |
| Featured Facility - Arnold AFB FamCamp | | | |
Editors note: This article was written in March 2013 by DeAntha Wright-Thornburg and is used by permission.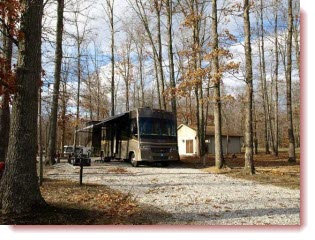 Beautiful State Park like surroundings..... but not made for larger RV units. There is a remote piece of heaven nestled between the trees at Arnold Air Force Base at Tullahoma, Tennessee. Located on Dogwood Ridge, this Fam Camp is somewhat primitive camping but the views of the lake and the sounds of nature all around make up its lacking of a few of the amenities some of us have come to expect at a military Fam Camps. There are no fancy paved streets to walk your dog. Nor are there security lights on every corner, nor is there a fancy laundry facility across from the clubhouse. There is no sewage at your camp site, no wifi, or cable TV. But there is a wonderful view from your RV of a beautiful lake, and an abundance of wildlife in the area to enjoy. They do have 30 or 50 electric AMP hookups at each site. They do have a beautiful sandy beach area for anyone to enjoy an afternoon in the sun. There is a covered pavilion for that family cookout. For that fisherman in the family there are boat rentals, pontoon, ski boats, kayak, & canoes. There are boat docks and launching pads at your campsites. They do offer Tennessee fishing license at the office. Tent camping is welcome and they do provide everything you might need, from your sleeping bags to a lanterns to camp for the weekend. This little piece of heaven is just right for an active family who loves to be outdoors.
Arnold Air Force Base Fam Camp is a weekend retreat for those desiring to get away from the city. The Fam Camp is a no frills type of camping. Not suited for the long term camper or large oversized Class A units that might exceed 34ft. They do invite extended stays up to 3 months is available. These amenities are totally opposite of many of the better known, military Fam Camps. Maneuvering through this wilderness maze of trees isn't an easy task. This camp isn't a place for any unit larger than 34ft. Nor is it designed for an inexperience driver. If you're 'NOT' an experience driver you can truly get caught between a 'tree' and a hard spot. There is no joke about this; the roads are covered with stone as are the campsites. There are narrow passages cut through the woods. It is one way in and one way out.
Last Updated on Sunday, 12 May 2013 08:10
Read more...
| | | | |
| --- | --- | --- | --- |
| Fort Belvoir Travel Camp ADDED | | | |

After over 5 years of planning and construction, Fort Belvoir Travel Camp will be opening soon.

Information and photos of this new military campground have been added to the website. Unfortunately, it's also one of the MOST EXPENSIVE military campgrounds!

Last Updated on Friday, 17 May 2013 05:25

| | | | |
| --- | --- | --- | --- |
| Fort Belvoir Travel Camp Grand Opening | | | |



Last Updated on Thursday, 16 May 2013 13:06
<<

Start

<

Prev

1

2 3 4 5 6 7 8 9 10 Next > End >>


Page 1 of 14
NEW LISTING - Fort Bragg Clay Target Center, NC
A user recently reported that they attempted to get a RV site at the Smith Lake Army RV Park at Fort Brag, NC. However, the park was full. BUT.... they were referred to the Fort Bragg Clay Target Center, operated by MWR.
With their help and a little research, we've learned about this previously unknown (sercret) military RV Park. The Fort Bragg Clay Target Center isn't primarily a RV Park, but they do have partial hookup RV sites available. If you can tolerate the skeet shooting on the weekend, and the park being open to the public, this is another RV Park operated by the U.S. Military.
Known information, maps etc can be found here. If you learn of any more information or get some photos, PLEASE let us know so we can update our information! If you hear of any other "secret" military campgrounds or RV Parks, let us know! We continually strive to privde yo with the most CURRENT and COMPLETE information available on U.S. Military Campgrounds and RV Parks!
Help support the operation of this website:
Visit our sponsors.
Make a donation.