Details

Published on Sunday, 03 August 2014 00:00
Written by Larry Farquhar
Great news! The new campground community center/office at Manatee Cove FamCamp, located at Patrick AFB, FL. has completed construction and is now open!
The $3.6M expansion project is slated to begin late this year and will add 40 new sites in addition to upgrading all current sites to full hookup, 30/50 amp. Project is slated to last 8 months and there will likely be a timeframe where guests will need to vacate the campground for necessary heavy work. Without a doubt, the Manatee Cove family campground has become a jewel in the crown of military campgrounds across the country.
Details

Published on Monday, 09 June 2014 10:33
Written by Larry Farquhar
Even after looking for over 8 years, we're still finding "Secret" military campgrounds. These are hidden, not well known, or not advertised military campgrounds and RV Parks. Over a 20 have been found in the past 8+ years. You can read more about our quest to find these secret campgrounds here.
I was recently notified of another "secret" camping area. The Harmon Lake Dam camping area is in a remote area of Barksdale AFB, LA. This small, tent only camping area is primitive. A great quiet area to get away and enjoy the outdoors.
Details

Published on Sunday, 08 June 2014 11:46
Written by Larry Farquhar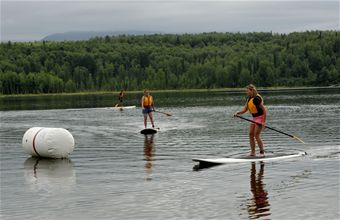 Another military recreation area was discovered. Otter Lake is located at the Joint Base Elmendorf-Richardson, near Anchorage, Alaska. This area has plenty of boating activities and rentals, and cabins for rent along the lake. There's also a small camping area available (no RV hook-ups).
Information, maps, prices, etc. have been added to the website and can be found here.