Details

Published: Saturday, 04 November 2017 08:43
Written by Larry Farquhar
We recently learned of another military recreation area that isn't well known or advertised. Lake Frederick Recreation Area is operated by the West Point Military Academy in NY. This recreation area has plenty of tent sites for groups and and bunkhouses. They've already built 4 new bunkhouses and in the process of removing old barracks to build 4 more bunkhouses.
You can find maps, information, photos, etc. on the Lake Frederick Recreation Area here.
Details

Published: Monday, 11 September 2017 14:01
Written by Larry Farquhar
It never fails to amaze me, but there's still U.S. Military Campgrounds and RV Parks out there that are not well known or advertised. I call these "secret" campgrounds. Over the past 11 years, we've uncovered over a dozen of these "secret" campgrounds. Well, today is still surprising me. I recently learned of TWO establishd military campgrounds that were not already listed. I've added these campgrounds to the website:
Fort Riley Primitive Camping in Kansas. Located near the Fort RIley Marina on Milford Lake.
Cedar Park Camping Area at the McAlester Army Ammuniton Plant in Oklahoma. This is only for long-term camping and rents by the month.
Information on these two newly added campgrounds is difficult to find. If you know anything about either of these locations, please send me the details and any photos you have. We're always striving to provide the most COMPLETE and CURRENT information possible. Your help allows us to meet these goals. Thank you!
Details

Published: Sunday, 26 March 2017 05:41
Written by Larry Farquhar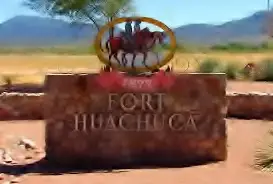 Over the years, we've tried a few times to stay at Fort Huachuca in Arizona. But getting into Apache Flats Resort during the winter months without a reservation is almost impossible. But this year, we lucked out! Without reservations, we called in early March to see if we could get a couple sites arriving the next day. We were traveling with a retired Army couple. We were surprised that we were told "yes", that there were two sites available for a couple days. We took them! When we arrived, Brenda (office staff) was able to extend us for an 8-day stay.
The major units at Fort Huachuca are the United States Army Network Enterprise Technology Command (NETCOM) and the United States Army Intelligence Center. The installation was founded in 1877 to counter the Chiricahua Apache threat and secure the border with Mexico. There's plenty of the historical buildings on post. There's two museums on post located in three buildings. The main museum occupies two buildings and tells the story of Ft Huachuca and the US Army in the American Southwest, with special emphasis on the Buffalo Soldiers and the Apache War. There's also a wonderful display of drones used by the Army. The second museum is The US Army Intelligence Museum. This Museum's emphasis is on U.S. Army (not civilian or other agency) military intelligence history and includes displays of the organizational development of the Army intelligence specialty. I greatly enjoyed the historical and drone museum. Unfortunately, the Military Intelligence museum was closed for the day when we went to it.
Articles of Special Interest