This site is unofficial and operated by a private citizen, proudly retired from the U.S. Air Force. It is NOT endorsed or sponsored by the Department of Defense, any branch of the military services, or any government agency.
Welcome! This free website is supported by sales of the U.S. Military Campgrounds Directory software, by visiting our sponsors, and by donations. Your support insures the continued operation and improvement of this website and the Directory software. Creating a free user account will provide access to all features of the website.
There are 253 listings and 6405 reviews.
We have 284 guests and 3 members online
U.S. Military Campgrounds and RV Parks
| | | | |
| --- | --- | --- | --- |
| Featured Facility - March ARB FamCamp, CA | | | |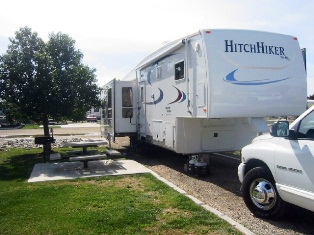 While in the area, we stopped by March ARB in California to check out the FamCamp. This campground is near completion of renovations and upgrades. The contract calls for construction to be completed by April 1st, 2012. During our visit in early March, it appered to us that construction was almost complete.
We followed the directions posted here to find the FamCamp without problems. Although, some road construction near the FamCamp made us go through a parking lot. RV's are to enter the base through the main gate. When approaching, you might question if there's any barriers that will make entrance difficult. There are none. The main gate entrance takes you around in a large loop before you actually get the gate. Large RV's will have no problems. After gettig theough the main gate, MWR requests that all campers stop at the Outdoor Recreation office FIRST to get your site assigned. They've requested that campers DO NOT go to the camgpround and occupy a site until after visiting Outdoor Recreation. The Outdoor Recreation office is located at Bldg# 434 located at 1870 Graeber Street. However, the roads are small and maneauvering a large RV in this area would be a challenge. There is a large parking lot a few buildings past the Outdoor Recreation office that would make it easier.
Last Updated on Thursday, 22 March 2012 09:26
Read more...
| | | | |
| --- | --- | --- | --- |
| ANOTHER Military RV Park ADDED to the Website! | | | |

Information was received and has been added to website on the Richmond Family, Morale, Welfare, and Recreation RV Camp. This RV Campground is operated by the Defense Logistics Agency in Richmond VA. This small 6 site RV park has full hook-ups for $20 a night.

| | | | |
| --- | --- | --- | --- |
| Buckley AFB FamCamp Grand Opening | | | |

The NEW Buckley AFB FamCamp will be opening on April 1st, 2012 and will be having their GRAND OPENING on May 4th! I've added this new campground to the website, with more information coming soon.

Reservations will be accepted starting April 1st, 2012. This new FamCamp has 38 RV sites at $22 a night.

Last Updated on Tuesday, 27 March 2012 14:52
<< Start < Prev 1 2 3 4

5

6 7 8 9 10 Next > End >>


Page 5 of 14
To help identify fellow military travelers and users of www.MilitaryCampgrounds.us, an online store has been created that offers a small variety of merchandise for sale. Profits from sales help support this website.
Read more...
Help support the operation of this website:
Visit our sponsors.
Make a donation.